St. Vincent de Paul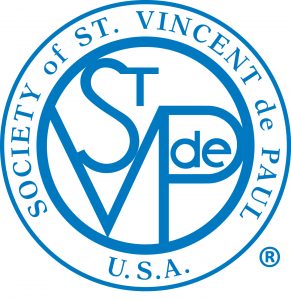 "… for I was hungry and you gave me food… I was a stranger and you welcomed me…"
Matthew 25:35
Sacred Heart
St. Vincent dePaul Society
Oscoda Conference
Emergency Food Pantry
Serving our community since 1982
MISSION STATEMENT
The Society of St. Vincent dePaul (SVDP) charity is a voluntary Christian organization, designed to work with poor and disadvantaged people. Inspired by its principal founder Frederic Ozanam, and our patron, St. Vincent dePaul, we seek to respond to the call every Christian receives to bring the love of Christ to those in need.
MEMBERSHIP
Membership in the organization is voluntary and open to any faith-inspired adult who is able to devote one or two days a month to serve clients in need at the food pantry, located on Sacred Heart Catholic Church grounds. Group meetings are held monthly but are not mandatory. Contact person for membership may be obtained through the church office at 739-9511.
SVDP SOCIETY
The society of St. Vincent dePaul was founded in 1833 by Frederic Ozanam, an university student in Paris, who wanted to give aid to the needy in the spirit of Christian charity. He gathered together a group of like-minded Christians who took St. Vincent dePaul as their patron saint as he was known as a priest who alerted the world to special problems. Today, the Society is a world-wide organization, with US membership at over 160,000 volunteers.
Contributions
SVDP Oscoda Conference graciously accepts monetary donations in any amount to help sustain the emergency food program for the entire community. Donations are tax deductible and checks may be made out to St. Vincent dePaul and mailed to:
St. Vincent dePaul Society
5300 N. US 23
Oscoda, MI 48750
Local History
The official start date for the Oscoda Conference of SVDP was August, 1982. It began when members of a Sacred Heart parish prayer group wanted to reach out to those in the community who needed emergency food, regardless of church affiliation, race, or origin. The program was operated from the basement of a local business and stocked through donations from founding members. In 1985, it was adopted as an official Sacred Heart parish program and given permanent facilities in the original parish hall, supported by an annual stipend form the church and donations from private individuals. No signage is used at the pantry itself, in order to protect the confidentiality of clients served.
How to Receive Services
All requests for emergency food must come through phone contact made to the local call center FISH (Friends Instantly Sharing Help). No requests are taken at the pantry facility.
Procedure:
Contact FISH at (989)739-9400 to set up an appointment time and give personal information
Bring ID for yourself and any other people living in your residence to show at pantry
Provide your own transportation – NO deliveries are made
Amount of emergency food items given are based on family size.
If household/clothing are needed, a voucher will be issued and you must make your own arrangements to pick up items- SVDP thrift stores will honor voucher dependent on availability*
Personal items (e.g. paper products) may be requested dependent on availability
*SVDP stores in Tawas or Mikado (Mikado Store requires a home visit prior to picking up furniture or appliances)
Oscoda Services
Emergency Food Pantry Operating under the leadership of the District Council of Tawas in Tawas City, MI, the Oscoda Conference operates an Emergency Food Pantry for those individuals in need who live in Oscoda. Individuals may make requests up to three times in any given year. Additional requests for emergency items, such as household or clothing can also be provided free of charge, dependent on availability.