Council of Catholic Women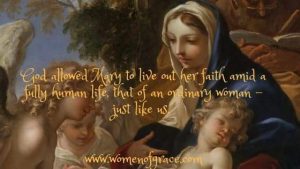 CCW Bake Sale 2019
May 25 & 26

July 6 & 7

August 31  & September 1
The Council of Catholic Women is devoted to energizing the parish, by providing support for the pastor and strength for the parish. Our real goal is to spread the Lord's invitation to follow in His footsteps and show compassion for others. Throughout the year we plan gatherings to bring the women of the parish together for fellowship & service. The following are some of our most recent events: Holy Family Bazaar, Raffle & Luncheon; Bake Sales; Funeral Luncheons; National, Diocesan & Southeast Region CCW Events & Meetings; National Rosary Rally; Advent Tea; Giving Tree; Lenten Soup Suppers; Annual Scholarship Fund & Harbor Lights Pregnancy Center Sponsor.
If you are a woman & a member of the parish, you are already a member. We are a fun group of gals but we need you too…please join us at our next meeting.
Meetings are held on the 3rd Thursday of every month
at 6pm in the school library.
 2017-18 Officers
Laure Smith, President
Rose Karbon, Vice President
Karen Blackmore, Recording Secretary
Linda Hicks, Communications Secretary
Blinda Baker, Treasurer
 Upcoming Events and News:
Sorry, no posts were found.