Angel Blanket Ministry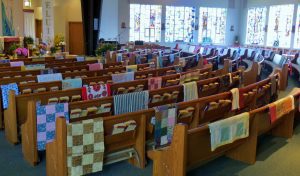 To better understand what the Angel Blanket Ministry does, please read the poem attached to each blanket sent.
I am an Angel Blankie
Created just for you
For God has placed you on my heart to bring some comfort to
So hold me close and snuggle me tight
Remember God is near
For He is our true comforter In times of pain and fear
Meetings are every Thursday
from noon to 3:00 pm
in the Knights of Columbus Hall
Everyone is welcome and no experience is needed.
Angel Blanket News
Angel Blanket Ministry Schedule:
May 31st – No meeting
June – meet every Thurs.
July – only Thurs. the 12th.
August – only Thurs., the 19th
Sept. 13th
 – resume Thurs. meetings
Nov. 22nd
 – Thanksgiving, No meeting
Dec. 20th
– last gathering through the Christmas Season
Jan. 10th
 – resume Thurs. meetings
---