Join Our Parish
Welcome to Holy Family Parish!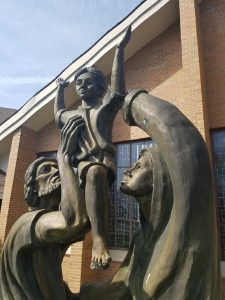 You are a very important member of our faith community and we welcome you to our parish family. We hope to meet you at our Eucharistic Liturgies, the heart of our parish life. We have a variety of programs for you and your family in faith formation and faith development. We offer many opportunities for your growth in faith through prayer, spiritual programs, education, and pastoral service. We take particular pride in our ongoing commitment to the importance of evangelization to our children through our faith development programs and our most excellent accredited Catholic Elementary School (pre-K through 7th grade). Evangelization of course starts with our commitment to ongoing adult Catholic education that matures and blossoms as it is passed on in legacy. Therefore, we are a dynamic parish with diverse experiences for faith shared, lived, and professed. We are a house of God in service to God's people. We are "A Holy Family".
So, in response to our service to you, our newest members, we invite you to invest your time, your talents, and your treasure to the welfare of your parish. We are striving to be a tithing parish, which means our members commit themselves to serve on one or more of our parish committees, ministries, or service programs. We are open, and in fact, need the diverse gifts and energies of all our parishioners and encourage active participation in taking ownership for building up our church community as the face of Christ himself. Our demand for help in our community often exceeds the services we may be able to extend. But with your help, commitment, and your generous efforts, what we are able to do in Christ name together continues to be nothing short of "Miracle" to so many in need. As pastor I am astounded and humbled by what our parishioners give and accomplish in Jesus' name.
We pray that you indeed will grow in faith, hope, and love with us and enjoy being a part of the Kingdom of God here at Holy Family. Thank you for your investment in making Holy Family your home church community.
Sincerely in Christ Our Shepherd,
Rev. Charles Donajkowski,
Pastor